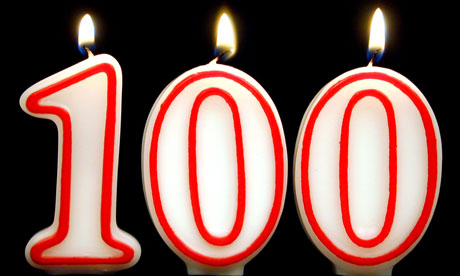 Yes, I finally reached a milestone. 100 posts! It has only taken about 14 months to reach 100 so not too bad of an average per month. It has been an interesting experiment to see if blogging is for me. Hint: some days it is and some days it isn't. I started out like gangbusters, fizzled for a bit, and lately have picked up the postings. Many of the items I post are my take from other blogs or Twitter posts I read. I have no real idea how many people regularly follow my public blog or if anyone actually reads it. Thanks to some stats from Google I can see the number of the views for my posts.
So here are my top 5 posts so far, thanks to you.
#5 -
Twitter for School Communication
- with a great tip to communicate to people who don't want a Twitter account.
#4 -
The Utimate Pi Day
- a recent post giving tips to celebrate 3/14/15 9:26:53 AM.
#3 -
TEQ-Online
- several resources from the TEQ website
#2 -
iMovie for the iPad
- a post over pretty much what the title states
And the number 1 post that has the most views with 384 views is...
#1
Online Classroom Timers
I can't really explain why the interest in this post. It has more views than the other 4 combined. Teachers do like timers for a variety of reasons for classroom use, so I guess that is it.
So there you go. 100 posts. I hope you continue to enjoy and gain use from this blog. Here is to the next 100!