My district has been moving more into the Google world so a lot of my posts and tweets are about Google. Today, I want to share some of my favorite Microsoft camera apps.
Office Lens
-
(
iOS
|
Android
)
Office Lens trims, enhances and makes pictures of whiteboards and documents readable. Have you ever been in a meeting or at a conference and someone has a lot of information either on a whiteboard or projected onto a screen. In my case, it is hard to write everything down quickly enough. I've tried taking a picture with my phone, but usually, there is a glare or I am standing at some angle that just makes the picture hard to read. That is where Office Lens comes into play. Office Lens will take the photo, crop, enhance, and straighten the picture and allow you to save in a variety of formats.
Microsoft Pix
- (
iOS
)
Pix is one of the easiest camera apps for the iPhone and iPad. Just snap the picture, compare the images to select the best photo to edit, and save and share to the apps already on your phone. Pix has face recognition, selects the best image out of a photo burst and works with live photos as well.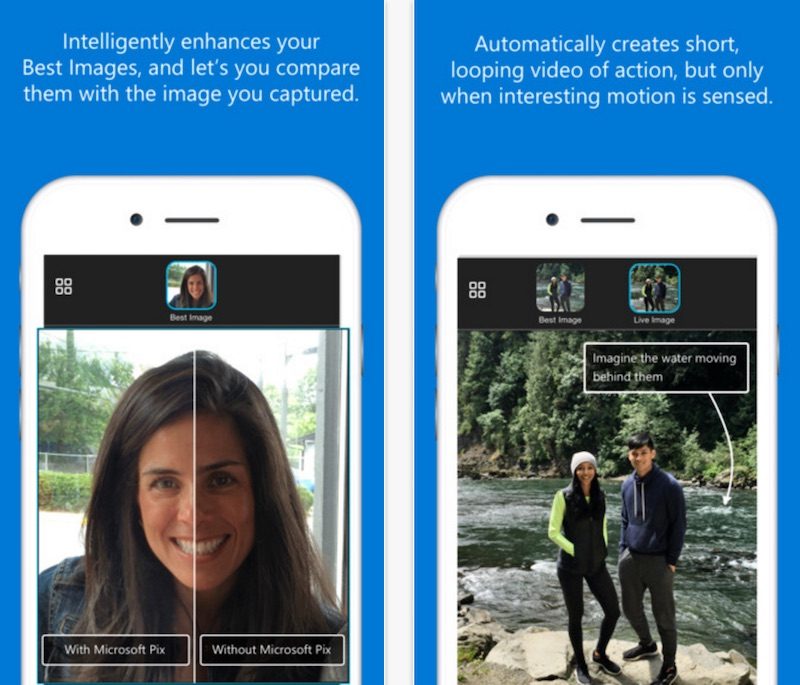 Microsoft Selfie
- (
iOS
)
Microsoft Selfie is a selfie and photo enhancement application available on iOS, web and WeChat. A simple tool for creating seflies. The app comes with Intelligent enhancement, noise reduction, and auto exposure editing features.
So if you are looking for ways to use your camera, give these three apps a try. I believe they are worth a look.